Location
The Centre Of
Urban Change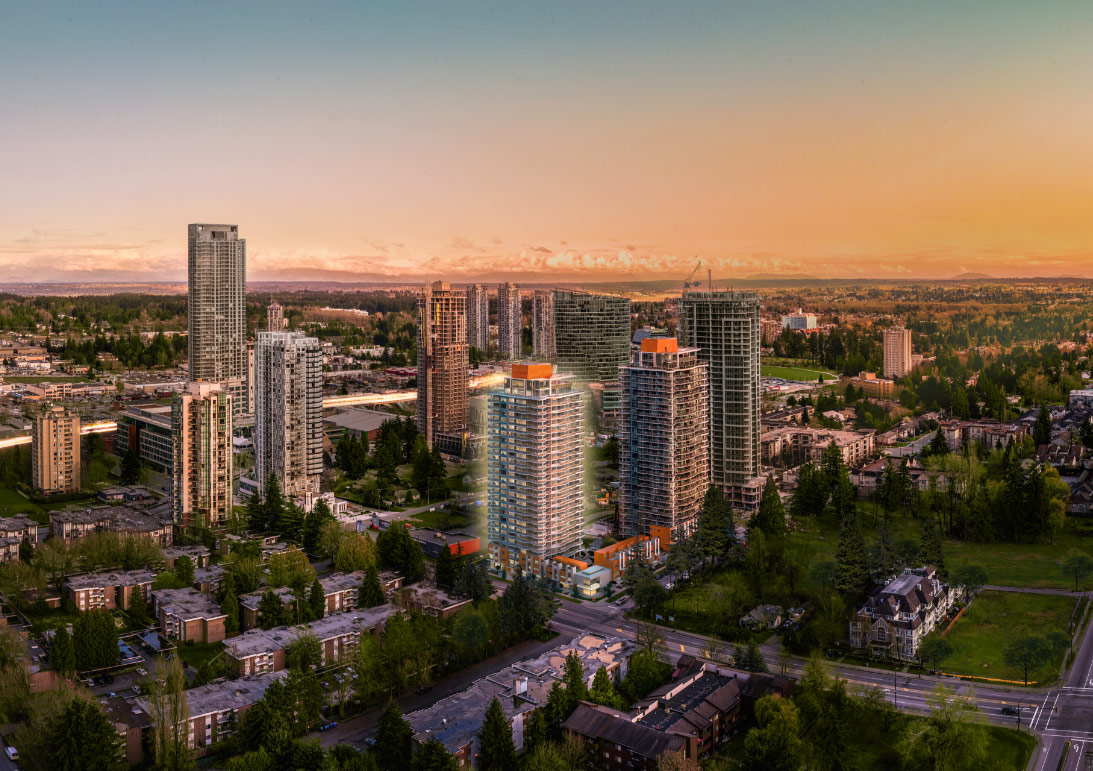 Surrey City Centre is alive with activity, expanding three times faster than the rest of the region. Municipal buildings of award-winning architecture, pre-eminent post-secondary institutions, and a thriving business community form a sophisticated urban hub. Family-friendly parks, sports fields, and recreation centres are abundant here. Rapid transit connects to downtown Vancouver, and new street-level LRT will further transform this increasingly accessible area. Surrey is heading in all the right directions, and its city centre is the place to be.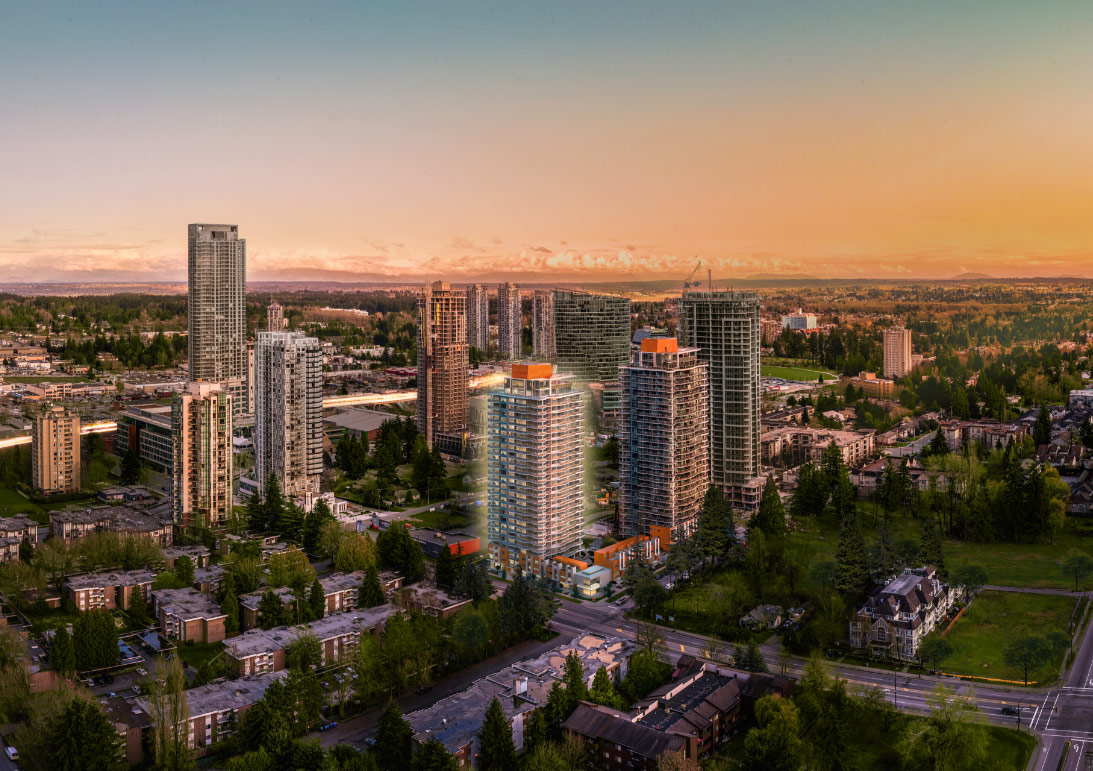 ---
Growth. Opportunity. Lifestyle.
40-minute SkyTrain ride to downtown Vancouver
Housing prices 24% lower than Vancouver
Surrey is growing by 11% per year
1,300 businesses located in Surrey City Centre
250 parks
6,679 acres of parkland
Surrey is the second-largest city in BC
Surrey is the 12th largest city in Canada
Hundreds of fitness and sports activities
Thousands of restaurants, shops, and amenities
20 km corridor dedicated to public art and culture
Award-winning "smart city" with 80% low-carbon energy system
Workforce population of 274,690
15,000 skilled workers trained by two major universities
Surrey City Centre's population projected to double by 2041
$12 billion in new construction in Surrey in the past 10 years
---
At Your Doorstep
KB WOODWARD ELEMENTARY SCHOOL

WHALLEY DAY CARE

ROYAL KWANTLEN PARK

KWANTLEN PARK SECONDARY SCHOOL

NESTERS MARKET

SURREY CITY HALL

SAFEWAY

SFU SUSTAINABLE ENERGY & ENVIRONMENTAL ENGINEERING BUILDING

SURREY LIBRARY

CIVIC HOTEL, AUTOGRAPH COLLECTION

PRADO CAFÉ

OLD YALE ROAD ELEMENTARY

BLENZ COFFEE

CENTRAL CITY BREW PUB

CENTRAL CITY PLAZA

SFU SURREY CAMPUS

CENTRAL CITY SHOPPING CENTRE

CLUB 16 TREVOR LINDEN FITNESS

HOLLAND PARK

AUREUS UNIVERSITY SCHOOL OF MEDICINE

FORSYTH ROAD ELEMENTARY SCHOOL

FORSYTH PARK

BRIGHT STAR MONTESSORI SCHOOL

SAVE-ON-FOODS

CANADIAN TIRE

NAHM THAI BISTRO

STARBUCKS

COAST CAPITAL SAVINGS HEAD OFFICE

BROWNS SOCIALHOUSE

BETTY HUFF ELEMENTARY SCHOOL

GUILDFORD PARK SECONDARY SCHOOL

HAWTHORNE PARK

HENLONG MARKET

HJORTH ROAD ELEMENTARY SCHOOL

GUILDFORD ATHLETIC CLUB

LENA SHAW ELEMENTARY SCHOOL

GREEN TIMBERS URBAN FOREST
Forward-Looking
Education
Health Care
Residential
Commerical & Office
Community & Infrastructure
---
Central Location
Just a five-minute walk from the SkyTrain, less than ten minutes by foot from Simon Fraser University's Surrey campus and Central City shopping centre, Linea is centrally located in the heart of Surrey's City Centre. Schools, parks, athletic facilities, shops and restaurants, and Surrey Memorial Hospital are all within quick reach, and downtown Vancouver is just 40 minutes away.